The Post-2020 Global Biodiversity Framework needs to consider additional groups of chemicals, according to a large international group of researchers, including researchers from the Department of Environmental Science. They published a perspective article and a policy brief with concrete proposals for improved inclusion of hazardous chemicals that aims to inform the delegates of the UN Biodiversity Conference COP15.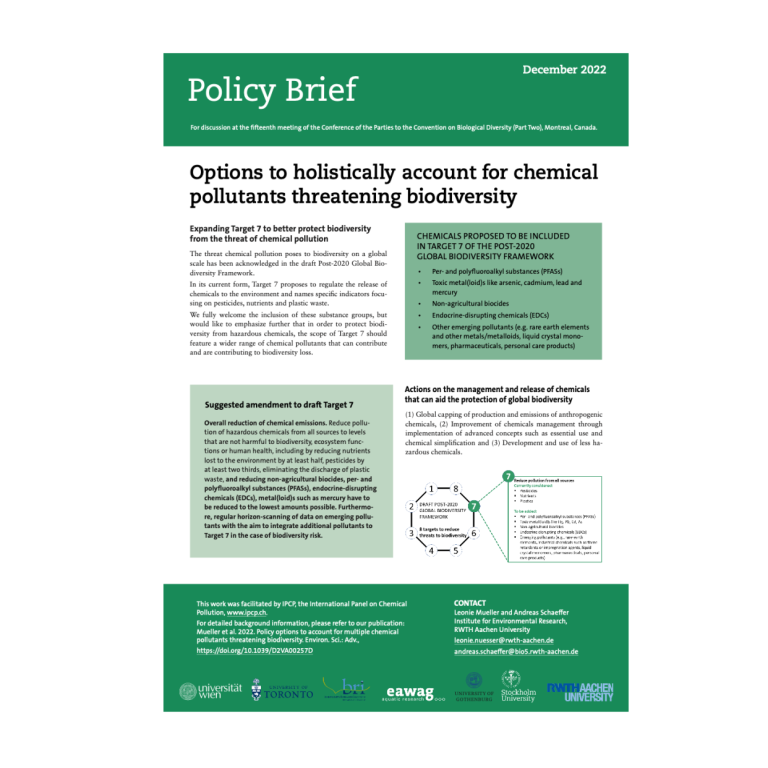 "Chemical pollution poses a major threat to biodiversity, but this has not been fully considered in the current proposals for targets to reach the biodiversity goals", says Marlene Ågerstrand, Assistant Professor at the Department of Environmental Science, who is member of the international researcher group.
Together with colleagues from Europe and North America, she looked closely at how chemical pollution is treated in the draft Post-2020 Global Biodiversity Framework, which is the expected outcome of COP15 currently held in Montreal, Canada. Their main conclusion is that the suggested Target 7, which deals with chemical pollution, must include more groups of chemicals than it does at present.
"The draft target includes only pesticides, nutrients and plastic waste, but there are many more groups of hazardous substances that can have a significant impact on biodiversity," says Marlene Ågerstrand.
The researchers propose that per- and polyfluoroalkyl substances (PFASs), toxic metal(loid)s like arsenic, cadmium, lead and mercury, and endocrine-disrupting chemicals (EDCs), among others, should also be included in the draft.
"It's really important that the extensive production and use of chemicals become less damaging. We can't stop using chemicals, but we have to develop less hazardous chemicals than we use today and restrict the use of hazardous ones to only when truly essential,"says Marlene Ågerstrand.
What do you hope to come out of COP15?
"I hope that the delegates at COP15 will understand the importance of chemicals and include our proposals in the targets. It is important to have a strong framework to really protect global biodiversity," says Marlene Ågerstrand.
Read the full perspective article Policy options to account for multiple chemical pollutants threatening biodiversity

 Options to holistically account for chemical pollutants threatening biodiversity (285 Kb)